Today I got some copies of a new upcoming album planned for release early fall. Orchestral Works by Tobias Broström.
The album includes the following pieces:
1. Beatnik (2016) 04:00
2. Crimson Seas (2007) 16:07
for alto and orchestra
4. Stellar Skies (2015) 10:12
for flute and string orchestra
Theatron (2014/2015)
for two percussion soloists and orchestra
4. I. volante 06:44
5. II. molto tranquillo 09:58
6. III. deciso 05:22
Performed by:
Malmö Symphony Orchestra, Ingar Bergby conductor
Anna Larsson, alto
Malin Nordlöf, flute
Norrlandsoperan Symphony Orchestra, Johannes Gustavsson, conductor
MalleusIncus, percussion
Front cover:
Painting by Björn Warwas (www.bjoernwarwas.de): Dreamscape, oil on canvas, 2018.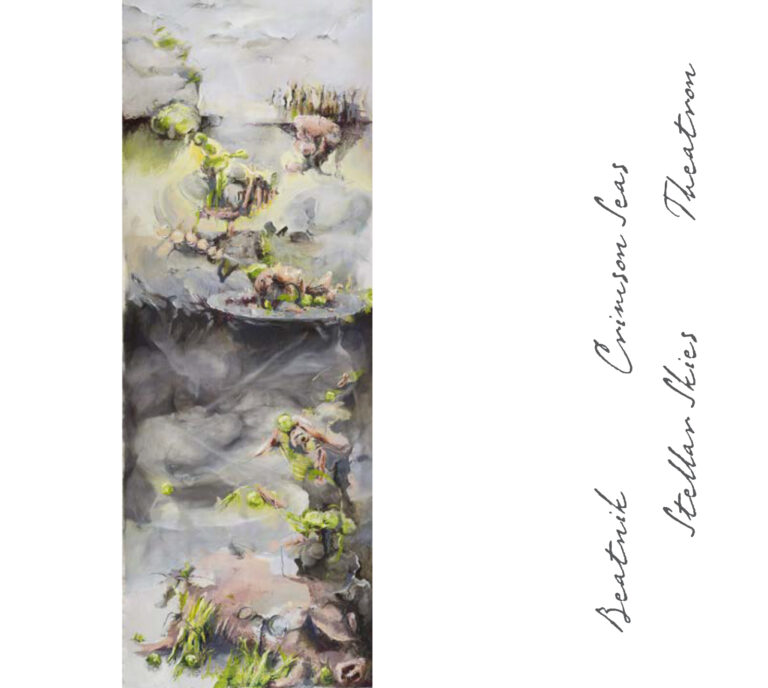 Beatnik (2016)
Gehrmans Musikförlag
"Beatnik" is an orchestral version of the short and intensive piece "Sputnik" for piccolo trumpet and orchestra, written for Håkan Hardenberger and the inauguration of the concert hall Malmö Live in 2015. Both titles are redolent of the 1960s and while Sputnik has a musical connection via the piccolo trumpet part that soars off to great heights, specially designed for Håkan Hardenberger's virtuosic capacity, the other title alludes to music's rhythmic activity, with odd and varied time signatures. It is a fast and virtuoso piece, almost – as the composer himself says – "like a mini-concerto for conductor and orchestra".
Crimson Seas (2007)
Gehrmans Musikförlag
The earliest piece on the record, "Crimson Seas" for contralto and orchestra, was composed already in 2007 during Broström's period as composer-in-residence with the Gävle Symphony Orchestra, and is a setting of Gustaf Fröding's poem "Atlantis", in an English translation by C. D. Locock. The work was composed for the Royal Court Singer Anna Larsson, and is the only piece composed during Broström's residency in Gävle that has not been recorded until now. In this work it is not so much the rhythm as the melodies which stand out. The text is a graphic vision of doom that according to the composer was an irresistible invitation to be set to music. Regarding his attitude toward setting texts, Broström says that "even if there are certain descriptive, key words that are given special treatment, it is mainly a matter of free musical associations rather than conscious, concrete tone painting. I appreciated the narrative story-telling element, the fairy-tale atmosphere in the poem, and there are latent music-dramatic gestures and tendencies". The text follows an inherent rhythm and a regular metre. Setting it to music, Broström aspired both to follow it but at the same time to create free melodies with a vocal part that rested on and issued from the sound world of the orchestra. From the viewpoint of compositional technique this was a major work in Broström's production. "Here I developed my own harmonic style, my own tone", he says, "an exploration that has yielded results in how I work today".
Stellar Skies (2015)
Gehrmans Musikförlag
"Stellar Skies" for flute and string orchestra is a tranquil and lyrical piece, and even though the solo part has virtuoso features it is of another type than those one finds in Broström's larger concertos. As usual, Broström did not write a work for a solo instrument in general, but for a special musician, in this case the flutist Malin Nordlöf. "Collaborating with Malin was a new experience", says Broström. "I knew her as an orchestral musician, we hadn't worked together before, but it turned out to be fun and stimulating" and they began, he says, a rewarding creative process in the working-out of the solo part. While a number of Broström's works build on clear-cut rhythms, we encounter in Stellar Skies more fluid, almost intangible structures. As in "Crimson Seas" harmony and sound constitute a central point of departure where the string orchestra creates a shimmering background with trills, tremolos and figurations, against which the livelier phrases and the free declamation in the solo part are outlined.
Theatron (2014/2015)
Gehrmans Musikförlag
The soloistic, virtuosic element in music has always interested Broström. Already his first large-scale work "Arena" was a concerto for percussion, after which there followed a number of solo concertos, e.g. the double concerto "Theatron" for two percussionists and orchestra, composed in 2014-15. "It is simply much more fun to work with the concerto form", Broström says, "both for the collaboration with the musicians, but also because the soloist creates a 'common thread' in the orchestral texture. The solo part becomes a point of reference, it has the fundamental musical material and the orchestra can follow like a shadow or engage in a dialogue with the soloist", he says. Nor are the works just solo concertos in general but in most cases concertos for certain persons, a number of whom Broström has worked together with for a very long time, not only in these pieces but also in solo and chamber music contexts, such as here in "Theatron" with Johan Bridger and Patrick Raab.
The title "Theatron" evokes associations to the same sphere as the title of his first percussion concerto, "Arena". "The theatrical element is present in both", says Broström, because "percussion always also has something physical and visual about it; you notice it in both works". But the compositions are moreover – very concretely – musically related and have some rhythmical ideas in common. However, the differences between the works are of vital importance. In "Arena" the soloist was in complete focus and the orchestra was more backstage – which was in line with the idea of the piece – while the orchestral texture in "Theatron" is more fluctuating and has different functions. "Generally speaking, the soloists and the orchestra this time form a more integrated unity", says the composer. The concerto consists of three movements. "I wrote the second movement first", says Broström, "a ten-minute-long tranquil movement with a simplicity that I sought, where the soloists are almost of secondary importance". This calm is surrounded by more extroverted, virtuosic outer movements.
When asked what he thinks about virtuosity, a concept that has been interpreted differently in different periods throughout history, Broström replies that it isn't a question of the Paganini type of virtuosity, just to show off, but that he likes a "furious, hectic virtuosity that provides focus, especially when it comes to creating rhythm". Moreover, rhythmical structures often create the very backbone in Broström's music; it is around these that the musical flow and form are built up: "The rhythm and the flow can in many cases come before both harmony and melody, even though timbre and dynamics are also central elements" – something that not least characterizes this double concerto.
Staffan Storm 2019