Last week we continued the recording of an upcoming album with my orchestral music. Malmö Symphony under Ingar Bergby did a very good job in deed and I will happily continue with the editing!
Three days and three new pieces were recorded. Stellar Skies (for string orchestra and solo flute), Beatnik (a short "opener" or encore for large orchestra originally written as Sputnik with solo piccolo trumpet as solo) and Crimson Seas.
The last mentioned piece was commissioned by Gävle Symphony Orchestra and premiered back in 2007. It is written for alto Anna Larsson and was supposed to be recorded on the album "Kaleidoscope". We didn't get the possibility to record it then so I'm really happy about the fact that we got it done now!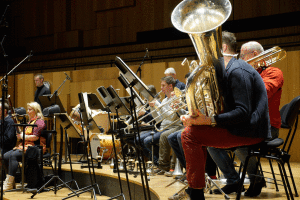 A fun but odd thing is that Stellar Skies (a commission by Malmö Symphony Orchestra) not has been premiered yet. If we are lucky, and I hope we will, the album will be released for the premiere when soloist Malin Nordlöf and Malmö Symphony is opening the season with MSO in september.
The new hall at Malmö Live is just so great when it comes to acoustics, I must mention that again…
Except the piece mentioned above we have already recorded my piece Theatron for two percussion soloists & orchestra.
So. A lot of work ahead. Planning my March as I write this. Three premieres and a twenty, or so, other performances. This besides my project with the concert barn that opens in the summer. Oh forgot to mention. An album with chamber music is on the way as well. Wish me luck.