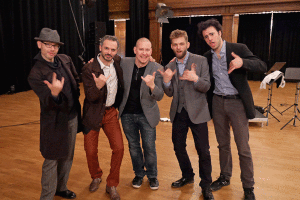 I got the benefit of writing for the American string quartet Brooklyn rider for a tour in Sweden this April. It was pure joy to get to know these guys. I hope to get the chance to do that again soon! I took some photage from the first concert in Malmö, my hometown.
Click the links to watch:
A review from Sydsvenskan in Swedish:
"… till kvällens uruppförande, Malmötonsättaren Tobias Broströms första stråkkvartett, beställd av Musik i Syd. Broström, från början percussionist, berättade om sin upplevelse av stråkkvartettens tunga tradition och enorma fordringar men också de rika möjligheterna.
Här hade han Brooklyn Rider med sig hela vägen. De stod bokstavligen och bildligen upp för det nya verket med sin förståelse och hängivenhet, med sin dynamiska och rytmiska millimeterprecision. Någon blygsam debut var inte detta, långt mer än en provkarta av lämpliga grepp och musikalisk materialredovisning. Fragmentarisk ibland men alltid intressant, med insikt i en stråkkvartetts klangregister och spelstilar. Man kan bara önska Broström "Samsara!" – så heter en dubbelkonsert han skrivit – alltså: "Fortlöpande flyt!" i karriären."